Nicholas Harper

Nick Harper

Portrayed by

Duration

2000–2005

First seen

Last seen

Comic Relief Special (2005)

Date of birth

15 June 1980 (age 37)

Parents

Siblings

Grandmother

Other Relatives

Richard Harper (1st cousin, once removed)
Abi Harper (2nd cousin)

Nephew
Nicholas frank joesph 'Nick' Harper (born 15 June 1980) is the eldest of three siblings in the Harper family, with Janey being his sister and Michael being his brother. It was after finding out that Susan was pregnant with him, that his parents got married. His idiotic and immature behaviour makes him irritating to his family, yet his laid back personality makes him fairly popular with women.
Nick seems to get himself in awkward situations with other people, often getting distracted than what he actually should be doing. Nick has attempted many jobs, such as a female impersonator, stunt-man, mime artist and magician; but was hopelessly unsuccessful at all of them. His birthday is 15 June. Kris Marshall left at the end of series 4 to pursue other projects, although he has appeared in one episode of series 5 and a Comic Relief Special since.
Series 1- In The Serpent's Tooth Nick wants to use the family's laptop to talk to meet women on-line. Nick's met a women on-line but the rest of the family don't believe him, thinking that he's been conned again by thinking he's talking to a women but really talking to a guy. The girl he's talking to a French swimwear model agrees to meet Nick at the house and turns out to be a hot French women but it turns out that Nick had told her he was a women.
Series 2- Nick is still the most positive character and continuing looking for a job. He even began dating again but the one "problem" - (to Susan) was that his new 'girl' was old enough to be his mother. Susan grew slightly jealous of how she was treating Nick the way she should have.
Nick is known for his hairbrain schemes and ability to change careers just like that, some saying he is chronically unemployable.
Some of Nick Harpers jobs:
Artist (Dro
Motorbike stunt display artist in a team called 'The League of Mentalmen' (Breakable)
Landlord
Mechanic/repairman (The Awkward Phase, Trust Never Sleep
Female impersonater
Celebrity party reviewer (Comic Relief Special)
References
Edit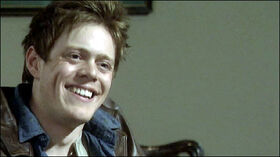 Community content is available under
CC-BY-SA
unless otherwise noted.