WELCOME TO THE MY FAMILY WIKI


This is a fan made database that anyone can edit. This Wiki features all the need to know facts from the hit BBC Comedy series. If you have any queries or ideas, then post them on the talk page our online forum.


Please feel free to edit this wiki, any help would be much obliged!

This site was started on April 7th, 2009 and currently includes 189 articles.

My Family is an award winning British television comedy, created and initially co-written by Fred Barron, produced by DLT Entertainment and Rude Boy Productions, and broadcast by the BBC. Ten series have so far been broadcast on BBC One in the United Kingdom between 2000 and 2010, with Christmas specials broadcast from 2002 onwards. The regular run of the eleventh series has just finished, and the last (We hope not) special is set to air on Christmas. My Family was voted 24th in the BBC's "Britain's Best Sitcom" in 2004 and was the most watched sitcom in the United Kingdom in 2008. As of 2011, it is one of only twelve British sitcoms to pass the 100 episode mark. The Video's/DVD's were released by Video Collection International (then merged to form 2 Entertain), working alongside BBC Worldwide.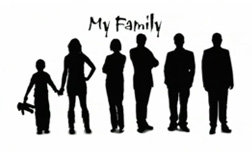 We here at the My Family Wiki hope that you enjoy this Wiki, and request that you respect our requirements. This Wiki really needs more editors to help, even though the Series is going to finish, and we need them to help now. Your Adminstrator is Ryn0. Your Bureaucrats are Chief, MrTP, 815 316, Who16 and Bateten. Want to be a Bureaucrat or Administrator? Then contact Ryn0 for details. Once again, thanks to all, My Family Wiki.
If you like comedy then visit our sister Wiki's: Citizen Smith (TV Show) Wiki and Only Fools and Horses Wiki. If you want to learn more about the BBC and it's programmes, old and new, then go to BBC Wiki. We are also linked to The Hobbit (films) Wiki, which shares details from the upcoming films.

We will continue even though the series is now over, we hope that you continue to help and enjoy our Wiki. My Family Wiki